From Sabrina's Nightmare.
Stonefox Productions is pleased to announce the release of Sabrina's Nightmare in Blu-ray, DVD, and hi-res download.
Sabrina's Nightmare. Click the picture to see the previews!
Stonefox Productions is pleased to announce that we are now offering Tantrum Trainers Videos!.
PA Punk. Click the picture to see the previews!
---
Stonefox Productions is pleased to announce a new partnership with Explore Spanking. Under the Stonefox Theater and the Product Catalog you will find very interesting downloads of interviews of people who were spanked growing up. These inexpensive downloads will captivate you. You can also download all six interviews for only $14.99 or buy the DVD with all six interviews for $24.99. Now you can also download all the Explore Spanking videos. These are short videos at very inexpensive prices featuring just spanking.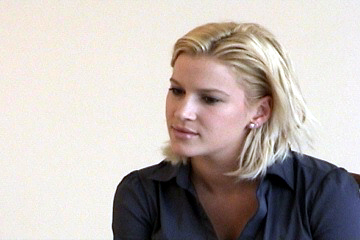 From Haley's Interview.
---
Updated 17 January 2015
Our Member's Area contains 6 great video segments. These are complete scenes that are as long as 15 minutes or more! We rotate in six new segments each week!
The price of a one week membership is $11.97. Our one month non-recurring membership is $19.97.
You do not have to be a member to purchase downloads or DVDs, but members get a 10% discount on purchases of downloads and DVDs! You also have the option to play them on your Apple product!
This week's Selections:
Caroline gets a back-to-school innoculation!
Tori gets an OTK spanking!
Kajira gets an enema at the Public Health Department!
Susan's Pelvic Exam!
Nurse Anika administers Ms. Johnson's first enema!
Tatiana's Proctoscopic Exam!
---
Buy These Excellent Books by T.C. Stonefox from Amazon or Barnes and Noble!
Join our mailing list for information on new releases and sales.
---
Models Photographs! Have you ever wanted to own a beautiful 8X10 black and white print of your favorite model? These are all original photographs made in the dark room. These are not digital prints. The collection is nowhere near complete so check back periodically. They are available for an amazingly low price of $12.95. Contact us for more information.
Tori
---
Were you Spanked or Given Punishment Enemas Growing Up? What is your most recent enema experience?
Click here to take a survey about your most recent enema experience
.
If you were spanked at home growing up, please take this survey.
If you were given punishment enemas growing up, please take this survey.
The results are available in the Member's Area.
---

My-enema.com is pleased to announce that we have begun offering enemarotica.com videos as downloads in our My-Enema Theater. Now available: Dakota!
---
---

Anika Sondholm Productions
Stonefox Productions, Inc., and Anika Sondholm Productions, Inc., are pleased to announce that we have entered into an agreement with ASP to sell and distribute their excellent DVD's and Downloads. Anika has been associated with Stonefox since its beginning and began producing her own material. We are very pleased to be able to represent her and they are available at my-enema.com!
---
---
Follow Stonefox Productions on Facebook.

Follow Dr. Albert Fish on Twitter.
---
---
Our shopping cart is secure. When you click on Check Out, you will see the https URL. Users of Internet Explorer will get a message that asks if they want to display non-secure items. This is because the menu on the left side of the page is separate from the shopping cart but that isn't where you enter any personal information. Rest assured that your information is encrypted. You will also notice that some of our competitors don't use secure shopping carts!
Stonefox feels that we need to make an effort to keep our explicit pictures out of the reach of children. You can see previews with all the pictures in our Member's Area, or you can subscribe to our email list and a link will be emailed to you to the complete previews when we have new releases.
Stonefox will never sell or give your information to a third party.
We are pleased to announce that we are distributors for Grant's Nozzles. These great nozzles are a must for the true enema collector.